Save money, time, and headaches with some simple considerations.
You've spent months developing a new brand package and all that is left is to get it produced. Unfortunately, there is no easy button…There are, however, several easy things to consider that will ensure you new packaging is flawlessly produced and avoid production nightmares.
Bottle – Size Does Matter.
A label has to be applied to something… and most of the time it's a bottle. If you are developing a custom bottle mold, you should finalize it before the completion of print ready files for your labels, capsules, corks, shippers, etc.; otherwise, you may be spending good money on elements that won't fit your new bottles.
If you are using a stock mold, pay close attention to the manufacturer's stated label panel size and that your labels are smaller than the panel. Word to the wise – give yourself at least 2mm from the top and from the bottom of the label panel to give your bottling line some tolerance when running the labels.
Label – Your Brand's Billboard, Make it Sing.
Your label is the single most important element of your package. When it comes time to print your label, make sure to keep these items in mind:
Meet with your label vendor to thoroughly review the files and to optimize the label size and print techniques to their presses. Often print technique upgrades or effects can be achieved for little to no additional costs and, conversely, if your specifications don't fit their presses well, your labels can be excessively expensive to produce. A few millimeters here and there can translate to big savings when addressing a full print run where the paper material is one of the largest drivers of cost.
Always run a die-blank test. This is simply a roll of labels die cut to the correct dimensions with all embossing and debossing on the selected stock. These test labels should be tested on your bottling line BEFORE your print run to ensure there are not any application issues. — It's cheap insurance to make sure your labels will apply flawlessly on your line and without flagging or bubbling issues. It's much less expensive (and less of a headache) to make adjustments after a die-blank test than to throw away an expensive production run.
Consider where your product will be chilled. If in a cooler at retail or in someone's freezer (vodka), the type of paper will be critical to avoid scuffing and bubbling due to moisture. Welded stocks that have a plastic barrier built into the label material prevent label degradation in ice buckets and prevent bubbling from moisture exposure. While more expensive, this upgrade can save you some major headaches down the road.
Capsule – Plan Ahead for Long Lead-Times!
Capsules and closures can have long lead times of at least 3 months or more. Make sure you allocate plenty of time for production. A little preplanning can save a frustrating and unnecessary delay later.
Give your vendor a visual color target. Do not rely on simply referencing a produced capsule or closure from the marketplace or their portfolio. There may have been color shifts through years of production runs and you could end-up with the wrong color.
Make sure to review your desired materials and finish – matte, satin, shiny. This will vary depending on the capsule material. Even PMS specified colors can vary wildly on different finishes.
If you are using polylam or PVC capsules, have your glass vendor verify that they can be used with your bottle. Don't assume they will work on every mold… you would be shocked how many bottles can't accommodate a polylam or PVC capsule due to their bead or a reverse taper in the neck of the bottle.
Make sure that your closure company has a sample of the bottle and is sizing to the correct bore diameter to prevent leaking issues caused by a poor fit. If you are developing a custom bottle, be sure to consider the bore diameter as not all bar pours will fit into every bore diameter.
If you are using a natural or synthetic T-top cork, make sure your distiller is comfortable with the cork vendor and the performance of their type of closures with the type of alcohol you are producing to avoid issues.
Shipper – Lead Times and Print Materials.
Many shippers are often ordered with glass and have longer lead times, so be sure to plan ahead. Often only 1-2 ink colors for the shipper are included in the bundled price, so be sure you know what is included to avoid having to redesign or pay an upcharge because of the number of colors used on your shipper design.
Make sure your designer is aware of the printing process (Flexographic Direct Print, Flexographic Pre-Print or Lithography) that will be used to print the shippers.
Each printing method lends itself better to certain designs (flat colors versus photography) so make sure the designs are optimized for the printing method chosen. Many designs will not translate well or can't be produced at all using Flexographic processes, so it's critical that your designer understand the parameters.
If you are ordering your shippers separately from your glass, be sure your shipper company has a sample of the glass to ensure proper fit and knows whether you have a paper label or are screen printing your bottles. They can specify the correct type of partitions to use to avoid label scuffing.
By utilizing these simple considerations, you can help avoid production nightmares.

photo credit: perpetualplum via photopin cc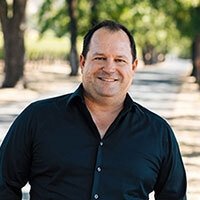 Latest posts by David Schuemann
(see all)