Well executed marketing materials such as brand sales sheets, tasting notes and shelf talkers will ensure that your brand is working hard for you in the market.
DON'T STOP…. You have completed so much hard work by establishing your brand story and your new package and now you are ready to introduce it to the world. Whether you are presenting to consumers directly, distributor teams or retail accounts, don't enter the arena empty-handed.
4 Keys to Successful Marketing Materials 
Written Copy
Make sure that your messaging is on target and engaging for your audience. Be sure to not overwhelm your audience with too much extraneous information; think short, sweet, and memorable.
Designed
Don't underestimate the impression well designed marketing materials can make. This is not the time to cut-corners. Materials need to be well designed and communicate your brand message effectively. Half-baked marketing materials can do more harm to your brand's first impression than good, so make them count.
Professional
Prints from your office printer can look amateurish and are not going to set the same tone as the exact same materials well printed by a professional.
Efficient & Cost Effective
By this point in the game, you may feel like you are bleeding money. Here are a few tips to being efficient with your marketing materials budget.
Templates
Work with your designer and talk through the pieces that you will need to regularly update and change compared to those that will be more "ever-green". Lean on your designer to help you establish a kit-of-tools that will leave you well equipped to meet any marketing needs that may arise.
Well-designed templates should allow you the ability to update materials on your own without having to reengage your designer to make updates to information that will change often.
Digital
Save money and trees by creating digital versions, such as PDFs, of your printed materials that can quickly be disseminated by email.
Also remember that someone may be printing your digital materials on their desktop printer, so make sure that it will produce if printed by your audience. (eg. don't break your recipient's bank with PDFs that require a ton of ink to print such as solid pages of a color or black; remember also that most desktop printers are not able to print to the edges, so don't place information on your materials where it may get "cut-off" if printed by your recipients.) 
Well-written and designed marketing materials send a strong message about your brand and stage it in the best of possible light maximizing your chance of success. They also ensure that when you are not there, your brand's marketing message continues to work for you and provides something for your distributor, retailer, or consumer to refer back to. Don't go overboard, though. There are 3 key pieces you should focus your efforts on.
3 Key Pieces to Create
Brand Sheet
Develop a concise information/sales sheet about your brand, its story, your products/formats and brand visuals that bring your brand to life for the recipient.
Tasting Notes/Information
Have information on each of your products. Take pride in your production methods and show them off. When you are pouring samples, always have a marketing piece that speaks directly to the products you are pouring so that whomever you are presenting has a physical takeaway.
Shelf Talkers
This is more of a "nice-to-have" for distributors and accounts, but these "mini-billboards" allow you to showcase scores, reviews, food pairings, or special offers and provide a sales tool for your retailers.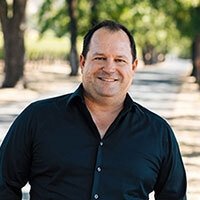 Latest posts by David Schuemann
(see all)