Jonathan Becher is a technology and marketing expert and the Chief Digital Officer at SAP. He recently wrote a Forbes article entitled, "The Psychology of Wine Labels" and was kind enough to reference my book, 99 Bottles of Wine:
"In his new book, 99 Bottles of Wine: The Making of the Contemporary Wine Label, Schuemann reveals the strategy behind the company's most successful packaging designs. The book contains a wide variety of photographs of some of the most eye-catching wine labels which, "'tickle our subconscious and coerce us into grabbing a bottle off the shelf'".
"…a carefully crafted label can make us think the bottle is way more expensive than it is, and it can boost our enjoyment of the wine itself."
Among many points highlighted in the article, Jonathan explains how consumers have different expectations of how a bottle or label should look depending on its price point.
"People associate simple uncluttered designs with high-end vintages and sophisticated flavors" he notes, "…more expensive vintages have a single color background with only a simple logo."
Click on the following link to read Jonathan's entire article, "The Psychology of Wine Labels". I would also encourage you to read his blog at www.jonathanbecher.com.
If you are interested in my book, you can review it here at www.99bottlesofwine.com.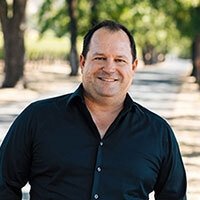 Latest posts by David Schuemann
(see all)